This post may contain affiliate links. This means that when you click a link and make a purchase, a percentage goes towards our blog. More details in disclosure above. Thank you for your support!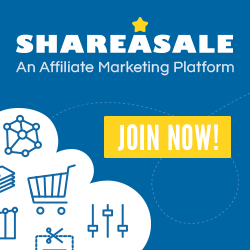 Have you heard of ShareASale? It's an affiliate marketing platform right at your fingertips!  Here are just some of the ways you can earn cash on the side while continuing to build your business:
Find a sponsor for your website. Get paid for your great content.
Let ShareASale find leads for you. Only pay when it works!
Drive more traffic to your online store using performance based marketing
Learn how they can increase your sales, develop your brand, and generate interest on your site
It's an amazing site and I can personally vouch that I have earned cash from this program. The key is to be consistent and be creative while following the rules and policies of the program.  Results are definitely not typical. It's what you are able to put into it. Give it a shot!
Join shareasale.com, Earn Cash!